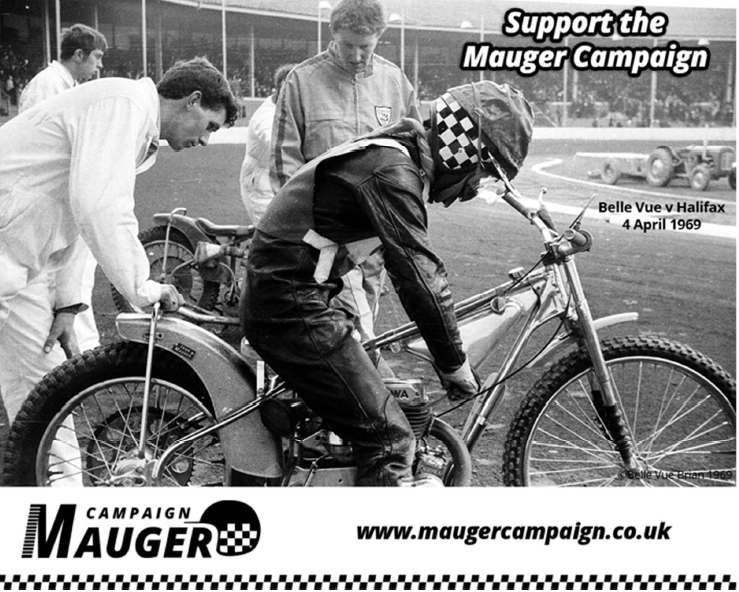 Stockport Blue Plaque for Ivan Mauger MBE OBE 1939 – 2018
Dear Sirs
I have launched the Mauger Campaign to campaign for recognition and commemoration of Ivan Mauger MBE OBE who, with his wife and three children, lived at 446 Chester Road from the early 1970s until he retired in 1985.
Ivan won the first Speedway race I ever saw at Belle Vue in September 1968 just after he had won the World Championship for the first time, details of which I have included in my appreciation.
Earlier this year I became aware that the site of the former aircraft factory in Woodford was being developed for housing.
I thought that this new development was a perfect opportunity to have a road named after Ivan and it might be sensible to give some details of his life and achievements to put the campaign in context.
Ivan  Mauger  was  the most  successful  speedway rider ever.    He was one of the world's most successful sportsmen and was based in the Manchester area for the successful parts of his career.
In his racing career from 1957 – 1985 Ivan won 15 World Championships;
| | |
| --- | --- |
| 6 x individual speedway | 1968-69-70-72-77-79 |
| 3 x individual long track | 1971-72-76 |
| 2 x world pairs | 1969-70 |
| 4 x world teams | 1968-71-72-79 |
He was the first man to win the individual world speedway championship three years in succession.
And he was the first rider to win a record six individual world championships and the first rider to win the individual speedway and long track world championships in the same year.
This is only part of Ivan's achievements. He went on to help other riders win the world championship and despite retiring in 1985 his contributions continue to shape the sport today.
It wasn't always like this and Ivan's story is one of triumph in the face of adversity. In 1957 at the age of 17 he uprooted himself and his wife Raye from their native New Zealand to move to England to start his speedway career. It is hard to imagine how they felt when arriving on their own at Tilbury after travelling half way round the world.
This wasn't a success. Ivan could not get a team place or get established and his wife and their baby daughter returned to New Zealand in 1958. Ivan carried on the following year and wrote to his wife every day during their time apart before returning to New Zealand at the end of the 1958 UK season, vowing never to be apart from his wife and family again.
Despite hardship Ivan dedicated himself to the task of becoming world champion and returned to England with his wife and three children at the start of 1963.
From then his rise to the top was spectacular, punctuated by the inevitable injuries often incurred in such a dangerous sport, before he became World Champion for the first time 50 years ago on 6 September 1968.
Ivan won the first speedway race I ever saw at Belle Vue in September 1968 just 2 weeks after winning the World Championship for the first time. I can visualise this moment as if it happened 5 minutes ago.
Two American businessmen thought so much of Ivan's achievement in winning the world individual speedway championship three years in succession in 1970, they gold plated his world championship winning bike.
The Gold Bike is spectacular. I was lucky enough to see it on display at Belle Vue in 1972 shortly before Ivan appeared on Blue Peter with it in.
It is now on display at the Canterbury Museum in Christchurch, New Zealand. Through the campaign we have been in contact with the son of one of the men who gold-plated it.
Sadly, after suffering from Alzheimer's for a number of years, Ivan died on 16 April 2018.
When I approached the Council the response was that a road could not be named after Ivan because it is not Council policy to name a road after someone until they have been dead for 30 years.
I want to see this happen in my lifetime and the Mauger Campaign was started to make a special case for Ivan.
I referred the Council's response to Ivan's family and, like me, they would like to see Council policy changed and commemoration of his life and achievements.
Our objectives go beyond a road name and I am liaising with Ivan's family in relation to other forms of recognition and commemoration.
The Mauger Campaign website was launched at the Celebration of the 90th Anniversary of Speedway in the UK at Paradise Wildlife Park in Hertfordshire on Sunday 18 February 2018 when a new Ivan Mauger section of the Speedway Museum was opened by Peter Oakes, one of Ivan's biographers, a video of which is on our website.
So far the Mauger Campaign has received support from hundreds of people from all over the world.
The message of Aaron Govern, one of the campaign supporters in Warwickshire who I had the pleasure to meet earlier this year, is particularly apt;
'Ivan Mauger is simply the Greatest Speedway Rider ever.
But in context, he is actually one of the Greatest Sportsmen who have ever lived. He transcends the sport he dominated, and is one of the legends who is equal to Jack Nicklaus, Muhammad Ali, Pele, and many others who are well-known, respected and the pioneers of their sport.
Ivan and his beloved family spent almost 30 years living in the UK, and for many years lived in Cheshire, with Woodford being the focal point of his success. Without Woodford, would Ivan ever have been so successful?
I wholeheartedly support this campaign for this brilliant man.'
After Ivan's death many of the contributions to the Book of Condolence were overwhelming.
A plaque for Ivan would be on a similar basis to the plaque for Fred Perry, that is for someone who had world famous sporting success while resident in Stockport.
For all this and lots more, I would like to nominate Ivan for a Stockport Blue plaque.
Please do not hesitate to contact me if any questions arise.
Yours faithfully