The Mauger Campaign submission for the Greater Manchester Plan March 2019
The Mauger Campaign has been launched to commemorate the life and achievements of Ivan Mauger MBE, OBE, the most successful rider in speedway history and one of the world's most successful sportsmen.
Throughout the successful parts of his career Ivan Mauger lived with his wife Raye and their three children in the Greater Manchester area and this submission seeks the adoption of policies to commemorate his life and achievements, his inspiration to countless thousands and his contribution to Greater Manchester.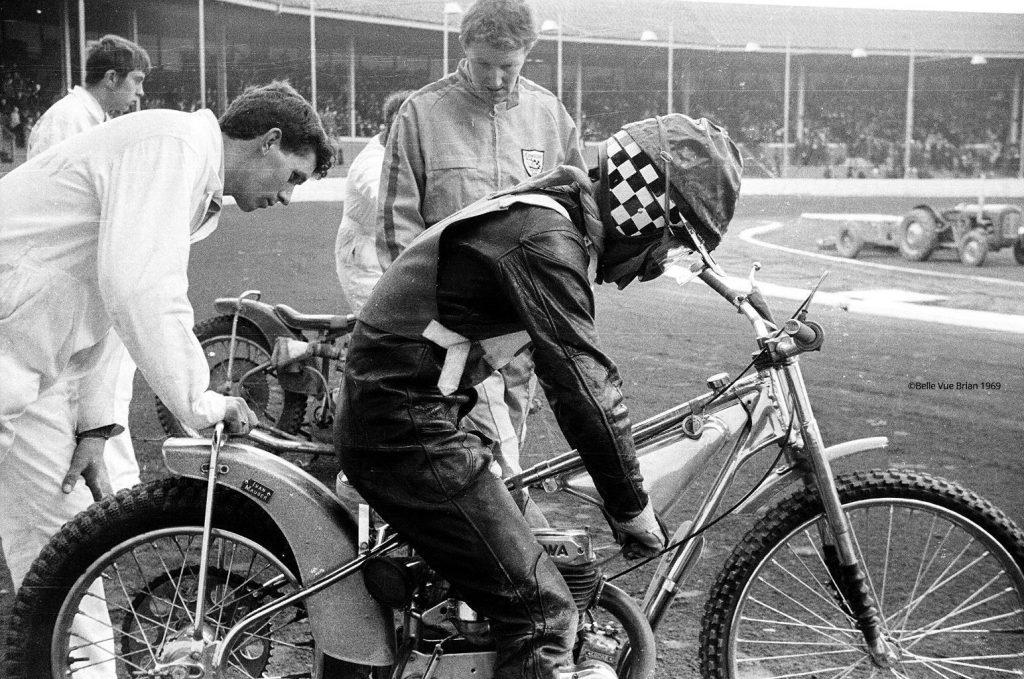 There aren't enough superlatives to describe Ivan's career.  He has the most individual world championships; 6 speedway and 3 long track.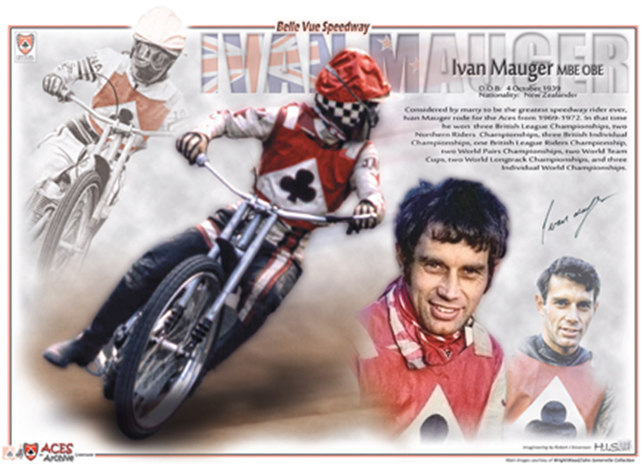 Whilst a member of the Belle Vue team, which he joined in 1969, Ivan was the first person to win the speedway world championship three years in succession (1968, 1969 and 1970) and the first person to win the world speedway and long track championships in the same year.
Two American businessmen thought so much of Ivan's achievement in winning the world individual speedway championship three years in succession in 1970, they gold plated his world championship winning bike.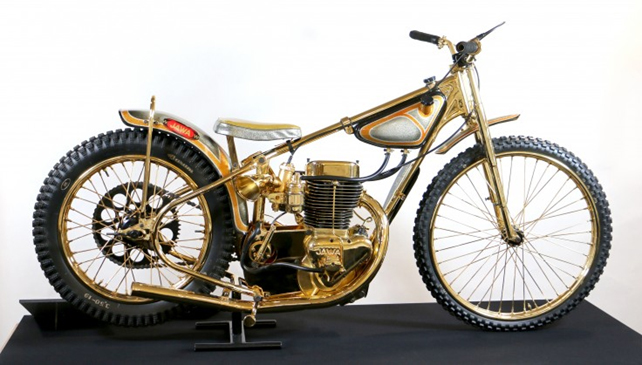 It was featured with Ivan on Blue Peter in the early 1970s and is now a permanent exhibit at the Canterbury Museum in New Zealand.
CAREER DETAILS
WORLD CHAMPIONSHIP RESULTS
WORLD CHAMPION
6 x individual speedway

3 x individual long track

2 x world pairs

4 x world teams

1968-69-70-72-77-79

1971-72-76

1969-70

1968-71-72-79

SILVER MEDALLIST
3 x individual speedway

2 x individual long track

4 x world pairs

2 x world teams

1971-73-74

1974-75

1971-72-78-81

1969-70

BRONZE MEDALLIST
1 x individual speedway

2 x world pairs

1967

1974-84

FOURTH PLACE
3 x individual speedway

1 x individual long track

1 x world pairs

2 x world teams

1966-75-76

1978

1985

1966-67
MAJOR CHAMPIONSHIPS RESULTS
CHAMPION
4 x European champion

4 x British champion

2 x British-Nordic champion

1 x Intercontinental champion

6 x British semi final winner

1966-70-71-751968-70-71-721968-7119751968-69-70-71-72-73
SILVER MEDALLIST
1 x European3 x British-Nordic4 x British
1973

1966-70-74

1966-67-69-73

BRONZE MEDALLIST
1 x European

1 x Commonwealth

1974

1980

AWARDED MBE 1975

AWARDED OBE 1989

AWARDED MEDAILLE D'OR/GOLD MEDAL 1987

(Only 7 have been awarded by Federation Internationale De Motocyclisme since 1904)

AWARDED HONORARY CITIZEN OF CITY OF GNIESZNO POLAND 1985

NEW ZEALAND SPORTSMAN OF THE YEAR – 1977-79

INDUCTED INTO NZ SPORTS HALL OF FAME – 1990

HONORARY SPORTS AMBASSADOR FOR NZ – 1985

CANTERBURY SPORTSMAN OF THE YEAR – 1970-71-72

BRITISH MOTOR CYCLE NEWS – "MAN OF THE DECADE" WINNER 1970 – 1980

BRITISH SPORTSMAN OF THE YEAR

4th 1969, 3rd 1970, 4th 1971, 2nd 1972, 3rd 1973

BBC TV SPORTS PERSONALITY OF THE YEAR

Runner up 1970-1972

SUBJECT OF OFFICIAL TELEVISION DOCUMENTARY FILMS:

1976 "Flying Kiwi" produced by British Television

1987 "Circuits of Gold" produced by NZ National Film Unit

2000 "Man of the Millennium" produced by Re-run Video UK

Additional unofficial television documentary films produced in Poland, Czechoslovakia

OFFICIAL JAWA FACTORY RIDER

1969 to 1982

PATRON

Mosgiel and district Motor Cycle Club

PATRON

New Zealand National Motorcycle Museum

PRESIDENT

Australian Veteran Riders Association

Represented N.Z. and International Competitors at F.I.M. Congress (World Authority) in Madrid/SPAIN, Ljubljana/YUGOSLAVIA, London/ENGLAND, Berlin/GERMANY, Brugrs/BELGIUM, Caracas/VENEZUELA, Poznan/POLAND, Montreux/SWITZERLAND, MALTA, Tokyo/JAPAN, Munich/GERMANY

IVAN MAUGER HOLDS THE FOLLOWING WORLD RECORDS:

Most individual World Championships – 9

6 x Speedway – 3 x Long Track

First person to win World Speedway and World Long Track

CHAMPIONSHIPS in same year

Most world final qualification – 52

Most individual world speedway championship wins – 6

Only person to win 3 individual world titles in succession

TRACK RECORDS

WORLD LONG TRACK RECORD

Alexandra Park, Auckland New Zealand, 23rd January 1987

143.033 k.p.h.

SPEEDWAY TRACK RECORDS

Holder of 119 track records in:

ENGLAND; AUSTRALIA; USA; SCOTLAND; NEW ZEALAND; WALES; IRELAND; NORWAY; SWEDEN; DENMARK; HOLLAND; BELGIUM; FRANCE; GERMANY; ITALY; AUSTRIA; YUGOSLAVIA; HUNGARY; POLAND; CZECHOSLAVAKIA; RUSSIA.

LONG TRACK, TRACK RECORDS

 Holder of 58 track records in:

NEW ZEALAND; AUSTRALIA; USA; SCOTLAND; ENGLAND;WALES; NORWAY; DENMARK; FRANCE; GERMANY; ITALY; YUGOSLAVIA; CZECHOSLAVAKIA.
This does not do justice to his standing and contribution to speedway.
One of the things that makes Ivan's story so remarkable is that it wasn't always like this.
Ivan arrived in England as a 17 year old in 1957.  It wasn't long before Ivan and his wife had their first child but success didn't follow and he returned to New Zealand the following year having been unable to establish himself in the UK.
Once back in New Zealand, despite what is said to have been extreme hardship, he worked hard to develop his skills.
Having been separated from his wife and child when they had to return to New Zealand without him, he resolved to return to the UK only if his wife and by that time, their three children, could come to the UK with him.
Eventually in 1963 Mike Parker, a Manchester based sports promoter, brought Ivan and his family to the UK and put Ivan in his Newcastle team.
From 1963 Ivan had a long association with Manchester, having lived in Chorlton Cum Hardy, Denton, Bramhall, and Woodford for the successful part of his racing career before moving with his family to Australia after his retirement.
Sadly, after suffering from Alzheimer's for a number of years, Ivan died on 16 April 2018.
The Mauger Campaign believes that Ivan Mauger MBE, OBE deserves recognition and that his life and achievements and his association with the area should be recognised and commemorated.
Or to put it another way, having inspired countless thousands, the area deserves recognition in the life of the most successful speedway rider ever and one of the world's most successful sportsmen.
In establishing policies to ensure the region thrives, the Greater Manchester Plan should acknowledge Ivan Mauger's life and achievements as an example of what has been achieved to inspire future generations.
The Mauger Campaign seeks policies to do so as part of the Greater Manchester Plan for Homes, Jobs and the Environment's plans for the future.
March 2019